Alpha Modbus Series UPS
This versatile UPS System is designed as a powerful AC backup source that offers flexible solutions for businesses of all sizes. The Alpha Modbus Series includes single-phase or three-phase inputs that offer power ratings of 6kVA to 30kVA, which can easily integrate with further system expansion if desired. The modular rectifiers only charge batteries when necessary, optimizing battery recharge time while conserving space usage by decreasing the number of rectifiers necessary to support batteries. All models have received NEMA 1/IP20 protection ratings, providing a degree of protection for personnel interacting with the system indoors.
Product Details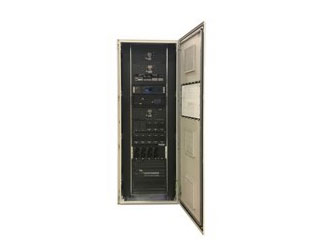 Cordex™ Rectifier Power Module: Modules are hot-swappable and can be individually disconnected

Pulse-Width Modulation (PWM) Inverter: Allows a zero transfer time of loads to the AC bypass source in case of an AC blackout.

Microprocessor Controlled Logic and Control Panel: Manage system health and maintenance protocols with programmable features

Input and Output Circuit Breakers: Prevent overload to the system from inputs and outputs

Flexible Power Rating Options: From Single-Phase Inputs to Three-Phase Inputs, the Alpha Modbus system provides power ratings ranging from 6kVA to 30kVA.
Schedule Service For Your UPS System
Choosing the right UPS System for your business or organization is essential for maintaining your daily operations. If you need more information about the Alpha Modbus Series or need professional installation and maintenance services, you can depend on specialists from Dowd Battery. Contact our team today if you have any questions!