Education Services
The classroom has become a center of technology, with power used to sustain educational activities throughout the year. On larger campuses, power distributes through several networks to support daily operations. With the sheer volume of power needed to support an educational facility, it is critical to have back-up power systems that can fully supply the needs of all the buildings across your campus. In response to any type of emergency, these power systems are necessary to keep everyone safe. If you need additional power sources for your campus, learn more about our power solutions below.
Our Power Solutions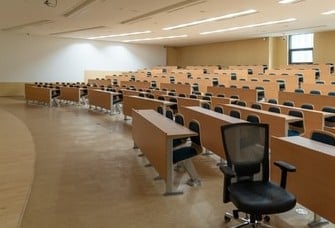 Preventative Maintenance: We offer maintenance packages that enhance the efficiency and lifespan of your system

UPS Systems: We are licensed service providers of the leading UPS battery solutions in the industry

Battery Equipment: From mounting batteries and accessories indoors and outdoors, we install everything you need.

Capacity Testing: Through routine testing, your battery systems will be analyzed for optimal performance

Battery Disposal: Our team responsibly disposes and recycles outdated batteries and hardware from your campus buildings
Schedule Service Today
At Dowd Battery, we work with campuses across the nation to sustain daily operations with the reassurance of dependable backup power solutions. We bring custom energy solutions to power any type of building. We look forward to developing innovative solutions that balance your budget and maximize energy efficiency for your organization. Contact our team to learn more about our solutions for utility networks today!