Alpha Micro Secure 100 UPS System
Store backup power to keep your operations moving in the face of a blackout or crisis situation with the Alpha Micro Secure 100 UPS system. This compact, resilient UPS system can be mounted indoors and outdoors with standard wall and pole mounting equipment. Encasing the system is NEMA 3R rated plastic that protects internal equipment from inclement weather. The Micro Secure 100 offers advanced monitoring systems that can be programmed to track and report its performance. The interface is also easy to operate by your personnel. Lastly, Micro Secure regulates battery use and extends battery life with its Automatic Voltage Regulator, ensuring that you have optimal access to uninterruptible power when you need it the most.
Product Details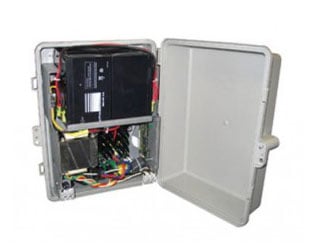 All-Weather Protection: NEMA 3R rated protection shields this UPS system from rain, sleet, and snow. Operating temperature range between -40 to 122ºF.

Local or Remote Monitoring: The RS-232 Port or optional Ethernet SNMP interface provides advanced control flexibility for personnel.

Independently Programmable Relays: Easily track key controlling, monitoring and reporting functions.

Enhanced Battery Life: The Micro Secure 100 features an Automatic Voltage Regulator which supplies continuous output even during voltage surges or sags.

Simplified Troubleshooting: Organized Event and Alarm logs include time and date stamps for detailed reporting
Schedule Service For Your UPS System
Choosing the right UPS System for your business or organization is essential for keeping critical operations online. If you need more information about the Alpha Micro Secure 100 Series or need professional installation and maintenance services, you can depend on specialists from Dowd Battery. Contact our team today if you have any questions!