Alpha Micro 350 UPS System
Designed to operate in extremely demanding environments around the world, the Alpha Micro 350 UPS system provides clean backup power to users in a wide range of applications. This all-in-one UPS solution offers protection against power disturbances that can harmfully shut down equipment used in security, communications, utilities, and data service industries. Built with NEMA 3R rated enclosures, the Micro 350 system can withstand inclement weather and operate in temperatures ranging from -40 to 165°F. There are also a number of size options, including the Micro 350, Micro 350XL and the Micro 350XL3.
Product Details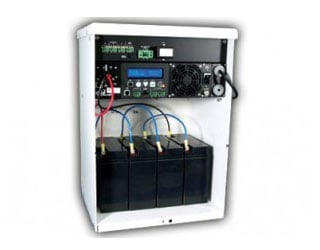 Compact, All-in-One UPS System: With Dual AC and DC Output, the Micro 350 is the only UPS system you'll need to manage all your backup power systems.

Durable NEMA 3R Construction: With an outdoor-rated construction and an operating temperature range between -40 to 165°F, the Micro 350 is suitable for diverse environments.

Automatic Voltage Regulation: Protects your system from voltage surges or sags without transferring to backup mode, lengthening battery life.

Temperature Compensated Battery Charging: Automatically adjusts charge voltage based on the temperature to extend the life of the battery

Extended System Continuity: The Micro 350 offers up to 11 hours of backup time at a full load of 350W.
Schedule Service For Your UPS System
For an outdoor UPS solution that is built to last, you can depend on the Alpha Micro 350. Our specialists at Dowd Battery can help you choose between different UPS systems based on your energy needs and also assist with installation and maintenance services. Contact our team today if you have any questions!