Alpha Micro 1000 UPS System
Designed to efficiently in a wide range of environments, the Alpha Micro 1000 UPS system provides backup power for businesses around the world. This integrated UPS system and enclosure offers security against power disturbances that can shut down critical equipment for your operations. Built with NEMA 3R rated housing, the Micro 1000 system can withstand inclement weather and operates with built-in temperature controls that optimally charge your system at extreme temperatures. For more information about the Alpha Micro 1000, you can read the details below and view the product specification document.
Product Details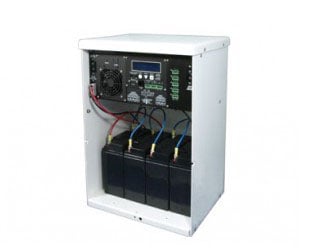 Compact, Integrated UPS System: Featuring a powerful 48 VDC battery to provide uninterruptible backup power

Automatic Voltage Regulation: Protects your system from voltage surges or sags without transferring to backup mode, lengthening battery life.

Durable NEMA 3R Construction: With an outdoor-rated construction and an operating temperature range between -40 to 165°F, the Micro 1000 is suitable for a wide range of climates

Event and Alarm Logging: Time and date stamping simplifies and accelerates troubleshooting

Temperature Compensated Battery Charging: Automatically adjusts charge voltage to prevent over charging at extreme temperatures
Schedule Service For Your UPS System
For an outdoor UPS system that is built to last, you can depend on the Alpha Micro 1000. Our specialists at Dowd Battery can help you identify the right UPS system for your needs and also assist schedule installation and maintenance services. Contact our team today if you have any questions!